Image: Roast Chicken from GreenmarketRecipes.com
What are the parts of a Chicken?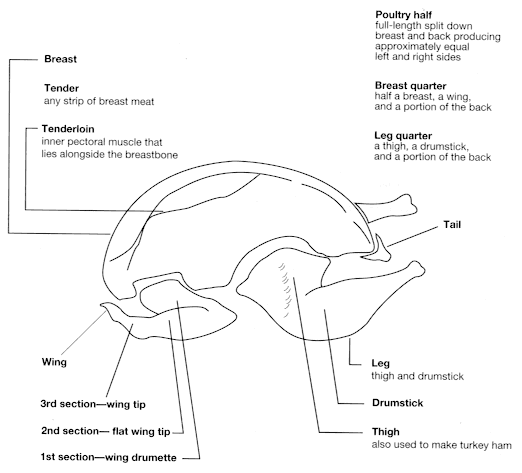 Chicken as Food
Chickens as food Chicken can be prepared as food in a large number of ways. Common traditional Western methods include roasting, baking, and frying, or more recently as a form of fast food (chicken nuggets). Their eggs are also eaten. Chickens raised specifically for meat are called broilers.
In ancient Greece, where chickens were still rare, they were a rather prestigious food for symposia, like hare or wildfowl. Castrated cocks (capons), which produce more and fattier meat than normal roosters, were already known. Delos seems to have been a centre of chicken breeding.
In 161 BC a law was passed in Rome that forbade the consumption of fattened chickens. It was renewed a number of times, but does not seem to have been successful. Fattening chickens with bread soaked in milk was thought to give especially delicious results. The Roman gourmet Apicius offers 17 recipes for chicken, mainly boiled chicken with a sauce. All parts of the animal are used: the recipes include the stomach, liver, testicles and even the pygostyle (the fatty "tail" of the chicken where the tail feathers attach).
Capons are considered a delicacy. They were especially popular in the Middle Ages.
---