An heirloom tomato is an open-pollinated (non-hybrid) cultivar of tomato. Heirloom tomatoes have become increasingly popular and more readily available in recent years.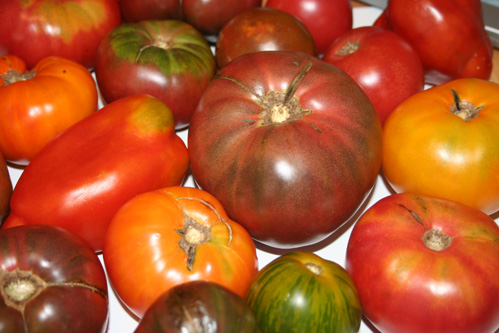 Requirements
The definition of the use of the word heirloom to describe plants is highly debated. One school of thought places an age or date point on the cultivars. For instance, one school says that the seeds must be over 100 years old, others 50 years, and others pick an arbitrary date of 1945 which marks the end of World War II and roughly the beginning of widespread hybrid ue by growers and seed companies or industrial agriculture. It was after the end of World War II that hybrid seeds began to proliferate in the commercial seed trade.
Another way of defining heirloom cultivars is to use the definition of the word "heirloom" in its truest sense. Under this interpretation, a true heirloom is a cultivar that has been nurtured, selected, and handed down from one family member to another for many generations.
Additionally, there is another category of cultivars that could be classified as "commercial heirlooms," cultivars that were introduced many generations ago and were of such merit that they have been saved, maintained and handed down - even if the seed company has gone out of business or otherwise dropped the line. Additionally, many old commercial releases have actually been family heirlooms that a seed company obtained and introduced.
Regardless of a person's specific interpretation, most authorities agree that heirlooms, by definition, must be open-pollinated. They may also be open pollinated varieties that were bred and stabilized using classic breeding practices. It is currently generally agreed that no genetically modified organisms can be considered heirloom cultivars. Another important point of discussion is that without the ongoing growing and storage of heirloom plants, the seed companies and the government will control all seed distribution. Most, if not all, hybrid plants cannot be regrown from the seeds of the original plant, thus insuring the dependency on seed distributors for future crops.
Heirloom tomato cultivars can be found in a wide variety of colors, shapes, flavors and sizes. Some cultivars can be prone to cracking or lack disease resistance. As with most garden plants, cultivars can be acclimated over several gardening seasons to thrive in a geographical location through careful selection and seed saving.
| | | |
| --- | --- | --- |
| Beefsteak Tomato | | Beefsteak tomatoes are the largest varieties of cultivated tomatoes, sometimes weighing 1 lb (.5 kg) or more. Most are pink or red with numerous small seed compartments distributed throughout the fruit, sometimes displaying pronounced ribbing similar to ancient pre-columbian tomato cultivars. |
| Eva Purple Ball | | A heirloom variety from the Black Forest Region of Germany. Excellent mid-sized tomato with thin skin and purplish tinge. Blemish free with great flavor |
| Cherokee Purple | | Purple Cherokee tomatoes are beefsteak in style, with green "shoulders" across the top. It was one of the first of the "black" color group of tomatoes. This variety is over 100 years old and was originally grown by the Cherokee Indians The tomato has an excellent rich flavor and is considered one of the best heirlooms. One of the very first known "black", or deep dusky rose colored cultivars that are becoming so popular. Named in 1990 by Craig LeHoullier, who received seeds of an unnamed cultivar in the mail from J. D. Green of Tennessee. Mr. Green indicated that the "purple" tomato cultivar was given by the Cherokee Indians to his neighbor "100 years ago". |
| Green Zebra | | Green Zebra is a tomato cultivar with characteristic green and yellow stripes. It is slightly more tart than regular tomatoes, and has dark green flesh when ripe. |
| Black Krim | | A dark red to brown cultivar often cited online as being from from the "island of Krim" in the Black Sea, better known as the Crimean peninsula in Ukraine (Crimea is known in Ukrainian as Krim). |
| Japanese | | Heart shaped tomato with bright red interior. |
| Black Pear | | Smokey taste similar to Cherokee Purple |
| Mexican (Red Calabash) | | Beefsteak type tomato from Mexico. This is a delicious, thin-skinned heirloom from the state of Chiapas in Mexico. |
| Canistrino | | Italian Heirloom tomato. Excellent for sauces. |
| Brandy Wine | | The tomato listed as simply "Brandywine" is one of the tomato varieties responsible for the ascendance of the popularity of heirloom varieties due to its excellent flavor and somewhat clouded history. A large fruited pink (red flesh, clear skin) variety produced on vigorous potato leaf foliage plants, Brandywine was passed on from the Sudduth family to a Ohio tomato enthusiast named Ben Quisenberry. Many seed savers traded seeds with Ben, and Brandywine eventually became widely available. Though a variety named "Brandywine" was offered in the late 1800s by the Stokes and Johnson seed company, that appeared to be a red fruited variety with regular leaf foliage. More likely is that Brandywine is a descendant of two similar (if not identical) varieties offered in the 1880's - Mikado (Henderson seed company) or Turner's Hybrid (Burpee Seed Company). This is the most well known heirloom variety from the late 1800's which has an incredibly sweet flavor. Huge sized fruit start out pink and turn slowly red and then slightly purple as they ripen completely. |
| Hillibilly | | Orange colored with dark red streaking throughout. Fruits have sweet and fruity flavor with high sugar content and high acidity. Heirloom variety from West Virginia in the 1800's. |
| German Stripe | | This is an old german heirloom variety producing huge boat shaped fruits weighing as much as 2 pounds. Color is golden yellow with pink to red stripes that varies from fruit to fruit. Excellent for slicing. |
| Polish Linguisa | | Tomatoes are very sweet and are more productive than most heirloom varieties. These huge sausage shapd tomatoes are excellent for making paste and sauce. A heirloom variety from New York, USA dating back to the 1800's. |
| Mortgage Lifter | | Tomatoes have a sweet rich flavor and turn deep pink when mature. This variety was developed in the 1930's by Mr. Byles of Logan, WV to help pay off his home mortgage. He crossed a German Johnson, Beefsteak, and Italian & English varieties to come up with this unique variety. Sweet and Tasty, also makes a good roasted tomato. |
Other heirlooms
Blaby Special-- A red fruited cultivar grown in the village of Blaby in Leicestershire until just after World War II. It was the main tomato cultivar supplied through England during the war. The cultivar ceased to be cultivated when the Shoult's Tomato Farm was closed after the war. The cultivar was brought back into cultivation in 2006 as a result of a campaign by Russell Sharp of Lancaster University. It may have resulted from either a mutation or cross-breed of an older cultivar known as Anwell.
Jubilee--" A heavy yielding, golden fruit. Released by Burpee Seed Co. in 1943.
Lillian's Yellow Heirloom - This wonderful, unique variety was collected some years ago by Lillian Bruce of Tennessee. Lillian passed the seed on to Robert Richardson, after which it found its way into the Seed Savers Exchange yearbook and became widely traded, and is now commercially available from a number of seed companies. One of the few bright yellow fruited varieties, and the only one with potato leaf foliage, this is a delicious, full flavored tomato that is very meaty, with few seeds. It tends to be a late season variety.
The text of this article is available under the terms of the GNU Free Documentation License (see Copyrights for details). Disclaimers.