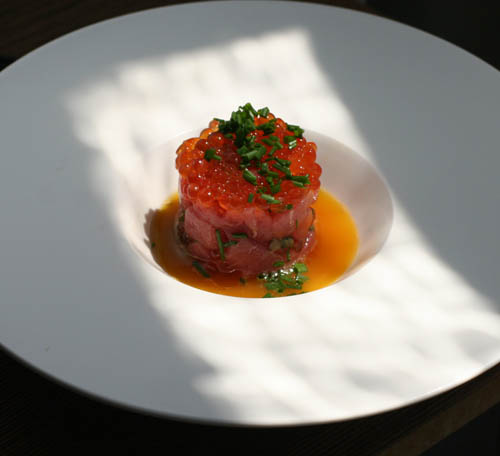 Image: tuna tartare salmon roe egg yolk sauce -- Signaturedishes.net
About Red Caviar
Red caviar is a caviar made from the roe of salmon, trout, or cod. It is distinct from black caviar, which is made from the roe of sturgeon. Red caviar is part of Russian and Japanese cuisine. In Japan, salmon caviar is known as ikura which derives from Russian word икра (ikra) which means caviar or fish roe in general.
Color of Salmon Roe
"...Salmon eggs (roe) range in color from pale yellowish-orange to dark reddish-orange. The color varies both by species and within species and is determined by water temperature, sediment composition, age, and other factors. The eggs vary in size from the tiny sockeye roe (average ¼ inch or 5.6 mm) to the large chum roe (average almost ½ inch or 8.3 mm). Also, if a salmon egg does not get fertilized, it can lose its bright hue and turn a milky shade with patches of color. The red color of eggs comes from carotenoids (antioxidant pigments) that the salmon get from their diet. Salmon deposit carotenoids in both their skin and eggs in preparation for spawning. It protects tissue from oxidative damage and helps regulate immune response. In a spawning adult, the red color is a signal of fitness and status, and is used to attract mates...."source USGS
Health and Nutrition Data on Salmon Roe
"...While Alaska salmon is known for its high level of heart healthy omega-3 fatty acids and lean protein, the omega-3 and protein content found in the roe far exceeds that of the meat. In addition, important vitamins and minerals are abundant in Alaska salmon roe...
Alaska Salmon Roe Nutrients and Fatty Acids in 30 g (mean values in 3 samples of pink salmon caviar)
Calories - 60 cal
Calories from fat - 15 cal
Total fat - 2 g
Saturated – 0 mg

Monounsaturated - 0 mg

Polyunsaturated - 0 mg
Protein - 9 g
Sodium - 390 mg
Calcium - 0 mg
Iron - 0 mg
Vitamin A (retinol) - 10% of DV
Vitamin C - 5% of DV
Cholesterol - 145 mg
n-3 Fatty acids
Alpha-linolenic (ALA) - 0 mg

Eicosapentaenoic (EPA) - 310 mg

Docosapentaenoic (DPA) - 0 mg

Docosahexaenoic (DHA) - 370 mg
Total EPA + DHA - 680 mg
Note
: Data based on Alaska pink salmon roe, which is representative of most kinds of Alaska salmon roe. However, actual amounts will vary between species and according to individual packers...source:
Alaska Salmon Roe Nutrients and Fatty Acids in 30 g (mean values in 3 samples of pink salmon caviar)
Calories - 60 cal
Calories from fat - 15 cal
Total fat - 2 g
Saturated – 0 mg

Monounsaturated - 0 mg

Polyunsaturated - 0 mg
Protein - 9 g
Sodium - 390 mg
Calcium - 0 mg
Iron - 0 mg
Vitamin A (retinol) - 10% of DV
Vitamin C - 5% of DV
Cholesterol - 145 mg
n-3 Fatty acids
Alpha-linolenic (ALA) - 0 mg

Eicosapentaenoic (EPA) - 310 mg

Docosapentaenoic (DPA) - 0 mg

Docosahexaenoic (DHA) - 370 mg
Total EPA + DHA - 680 mg
Note
: Data based on Alaska pink salmon roe, which is representative of most kinds of Alaska salmon roe. However, actual amounts will vary between species and according to individual packers... source --
Alaska Salmon Roe: Nutritional Information
---