Ginger is a flowering plant whose rhizome, ginger root or simply ginger, is widely used as a spice or a medicinal herb. It is indigenous to south China, and was spread eventually to the Spice Islands, other parts of Asia and subsequently to West Africa and the Caribbean. Ginger was exported to Europe via India in the first century AD as part of the lucrative spice trade. Currently India is the largest producer of ginger supplying 39% of the worlds ginger with China second at 15%. Although ginger is best grown in warm, humid climates we are seeing greenhouses in the US grow the plant. 
HOW IS GINGER USED?
Young ginger rhizomes are juicy and fleshy with a very mild taste and having a red rosy color
Mature ginger rhizomes are fibrous and drier.
Young ginger is often pickled in vinegar or sherry as a snack or cooked as an ingredient in many dishes. It can be steeped in boiling water to make ginger tea, to which honey is often added. The juice from ginger roots is often used as a spice in Indian recipes and is a common ingredient of Chinese, Korean, Japanese, Vietnamese, and many South Asian cuisines for flavoring dishes such as seafood, meat, and vegetarian dishes.
Fresh ginger can be substituted for ground ginger at a ratio of six to one, although the flavors of fresh and dried ginger are somewhat different. Powdered dry ginger root is typically used as a flavoring for recipes such as gingerbread, cookies, crackers and cakes, ginger ale, and ginger beer.
Ginger can be candied, or crystallized. The ginger root is cooked in sugar until soft, to create a confectionery.
Fresh ginger can be peeled before eating. For longer-term storage, the ginger can be placed in a plastic bag and refrigerated or frozen.
HOW IS GINGER USED IN DIFFERENT COUNTRIES?
In Japan, ginger is pickled to make beni shoga (red pickled ginger) and gari (sushi ginger) or grated and used raw on tofu or noodles. It is also made into a candy.
In Korea ginger is made into kimchi. It is either finely minced or just juiced to avoid the fibrous texture and added to the ingredients of a spicy paste just before the fermenting process.
In Burma, ginger ( gyin) is widely used in cooking and as a main ingredient in traditional medicines. It is consumed as a salad dish called gyin-thot, which consists of shredded ginger preserved in oil, with a variety of nuts and seeds.
In Thailand it is used to make a ginger garlic paste in cooking.
In Indonesia, a beverage called wedang jahe is made from ginger and palm sugar. Indonesians also use ground ginger root, called jahe, as a common ingredient in local recipes.
In Malaysia, ginger is called halia and used in many kinds of soups.
In the Philippines, it is a common ingredient in local dishes, and it is brewed into a tea

In Vietnam, the fresh leaves, finely chopped, can be added to shrimp-and-yam soup as a top garnish and spice to add a much subtler flavor of ginger than the chopped root.
In China, sliced or whole ginger root is often paired with savory dishes such as fish, and chopped ginger root is commonly paired with meat, when it is cooked. Candied ginger is sometimes a component of Chinese candy boxes, and an herbal tea can be prepared from ginger.
In the Caribbean, ginger is a popular spice for cooking and for making drinks such as sorrel, a drink made during the Christmas season. Jamaicans make ginger beer both as a carbonated beverage and also fresh in their homes. Ginger tea is often made from fresh ginger, as well as the famous regional specialty Jamaican ginger cake.

On the island of Corfu, Greece , a type of ginger beer, is made. The people of Corfu and the rest of the Ionian islands adopted the drink from the British.
In Western cuisine, ginger is traditionally used mainly in sweet foods such as ginger ale, gingerbread, ginger snaps, parkin, ginger biscuits, and speculaas. A ginger-flavored liqueur called Canton is produced in Jarnac, France. Ginger wine is a ginger-flavored wine produced in the United Kingdom, traditionally sold in a green glass bottle. Ginger is also used as a spice added to hot coffee and tea.
ACTIVE INGREDIENT IN GINGER IS GINGEROL -- GINGER MOLECULES
Gingerol, or sometimes [6]-gingerol, is the active constituent of fresh ginger. Chemically, gingerol is a relative of capsaicin and piperine, the compounds which give chilli peppers and black pepper their respective spicyness. It is normally found as a pungent yellow oil, but also can form a low-melting crystalline solid.
Cooking ginger transforms gingerol into zingerone, which is less pungent and has a spicy-sweet aroma. When ginger is dried, gingerol undergoes a dehydration reaction forming shogaols, which are about twice as pungent as gingerol. This explains why dried ginger is more pungent than fresh ginger.

Gingerol Molecular Structure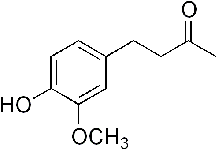 ZingeroneMolecular Structure
HEALTH BENEFITS OF GINGER
Ginger is one of the most commonly consumed dietary condiments in the world with the active substance believed to be gingerol (molecule shown above). 
Gingerol seems to be effective in an animal model of rheumatoid arthritis. Gingerol has also been investigated for its effect on cancerous tumors in the bowel, breast tissue, ovaries, the pancreas, among other tissues, with positive results. (See review article below) 
Ginger is commonly used to treat various types of "stomach problems," including motion sickness, morning sickness, colic, upset stomach, gas, diarrhea, nausea caused by cancer treatment, nausea and vomiting after surgery, as well as loss of appetite.
Other uses include pain relief from arthritis or muscle soreness, menstrual pain, upper respiratory tract infections, cough, and bronchitis. Ginger is also sometimes used for chest pain, low back pain, and stomach pain. 
Ginger has shown to be effective as an anti-inflammatory. In fact, a University of Miami study concluded that ginger extract could one day be a substitute to nonsteroidal anti-inflammatory drugs (NSAIDs). The study compared the effects of a highly concentrated ginger extract to placebo in 247 patients with osteoarthritis (OA) of the knee. The ginger reduced pain and stiffness in knee joints by 40 percent over the placebo (see abstract in PubMed). A note of caution on ginger is to stay Steer of ginger if you're taking a blood-thinning medication, like warfarin (Coumadin), as ginger may reverse the effects of these types of drugs.
Researchers at the University of Georgia in Athens and Georgia State College & University in Milledgeville reported in the Journal of Pain that a few tablespoons of grated ginger can help ease muscle pain caused by exercise (see abstract in PubMed)
HOW DOES GINGER WORK AS AN ANTI-INFLAMMATORY DRUG? 

Ginger--an herbal medicinal product with broad anti-inflammatory actions. Grzanna R1, Lindmark L, Frondoza CG. J Med Food. 2005 Summer;8(2):125-32.
Abstract
The anti-inflammatory properties of ginger have been known and valued for centuries. During the past 25 years, many laboratories have provided scientific support for the long-held belief that ginger contains constituents with antiinflammatory properties. The original discovery of ginger's inhibitory effects on prostaglandin biosynthesis in the early 1970s has been repeatedly confirmed. This discovery identified ginger as an herbal medicinal product that shares pharmacological properties with non-steroidal anti-inflammatory drugs. Ginger suppresses prostaglandin synthesis through inhibition of cyclooxygenase-1 and cyclooxygenase-2. An important extension of this early work was the observation that ginger also suppresses leukotriene biosynthesis by inhibiting 5-lipoxygenase. This pharmacological property distinguishes ginger from nonsteroidal anti-inflammatory drugs. This discovery preceded the observation that dual inhibitors of cyclooxygenase and 5-lipoxygenase may have a better therapeutic profile and have fewer side effects than non-steroidal anti-inflammatory drugs. The characterization of the pharmacological properties of ginger entered a new phase with the discovery that a ginger extract (EV.EXT.77) derived from Zingiber officinale (family Zingiberaceae) and Alpina galanga (family Zingiberaceae) inhibits the induction of several genes involved in the inflammatory response. These include genes encoding cytokines, chemokines, and the inducible enzyme cyclooxygenase-2. This discovery provided the first evidence that ginger modulates biochemical pathways activated in chronic inflammation. Identification of the molecular targets of individual ginger constituents provides an opportunity to optimize and standardize ginger products with respect to their effects on specific biomarkers of inflammation. Such preparations will be useful for studies in experimental animals and humans.
References--
Herbal Medicine: Biomolecular and Clinical Aspects. 2nd edition
Anti-Oxidative and Anti-Inflammatory Effects of Ginger in Health and Physical Activity: Review of Current Evidence

COOKING WITH GINGER 
Both fresh and dried ginger can be used in cooking either sweet or savory dishes. -- fresh light and tangy flavor of ginger great for desserts as well as savory dishes. Ginger is very versatile in that it can be used sliced, julieened, chopped, grated, puréed, and minced. For an excellent ginger marinade see (Tuna Tartare with Spicy Avocado Ginger Marinade and Radish Salad)